2nd Mayor Leandro Jose H. Catarata's Cup
In Cooperation With Magahat Team Airsoft Valencia Bukidnon
Greetings,
Magahat: Team Airsoft Valencia would like to invite your prestigious team to join our upcoming annual event in lieu of the commemoration of the founding anniversary of Valencia, as a charter city of Bukidnon, to an Airsoft tournament dubbed as "Situation Critical 2: Operation BlackGold". This event is in cooperation of our honorable City Mayor Leandro H. Catarata.
Each team will be able to play with other teams joining the tournament in a single round robin tournament format. Ample time to share BB's and reunite the camaraderie binded during our 1st Airsoft tournament last year.
Hoping to hear from you soon.
Melvin D. Chan
President
- - - - - - - - - - - - - - - - - - - - - - - - - - - - - - - - - - - - - - -- - - - - - - - - - - -- - - -
Registration will be Php 850/head, which will cover the following:
Entry fee
2 days lunch
2 days Snacks
A Social dinner party on January 11, 2009
T-shirt
Plaque of participation/appreciation to every team
-
You will receive the full briefing manual on December 20,2008. The manual will consist of the game rules and mechanics, course layout, game site SOP's etc...

if you have any questions, please feel free to contact Mr. Jun Mercado(09177065228) or through our e-mail box at
www.wiredfrost@yahoo.com
NOTE:
Date of tournament January 10-11 2009
Deadline of payment for registration- December 20, 2008
First Come first serve basis
16 teams will be accommodated
22 man team
Each team requires 2 pistols and 1 sniper rifle(500 fps)..
OP: BLACKGOLD
Communications were out except on a single radio which needed a communication box in a helicopter on the heli pad on top of the oil field located in heart of Mindanao. The said oil field was captured by a group of notorious terrorist led by Abbu Hamzah. Spec Ops group will be deployed on the scene to neutralize the enemies, regain control on the area, and retrieve the large sum of cash that was plundered by the terrorists. The main objective of the mission is to call Mission Control after retrieval of a communication box to be used to activate the communication control in the chopper, and retrieve the cash plundered by the terrorists, then evac aboard the helicopter…Goodluck operators and Godspeed!
GAMESITE MAP PREVIEW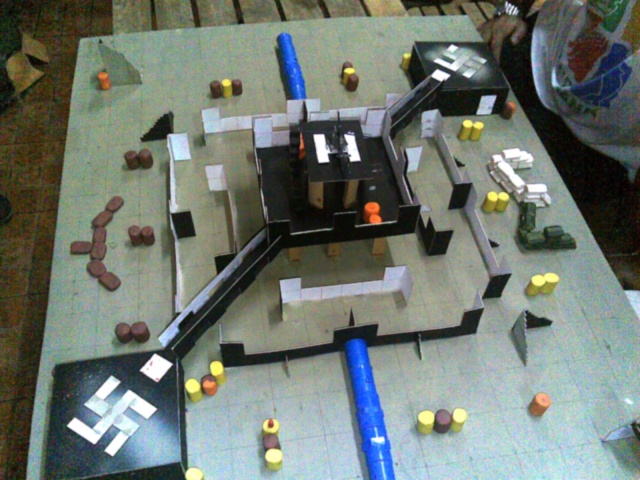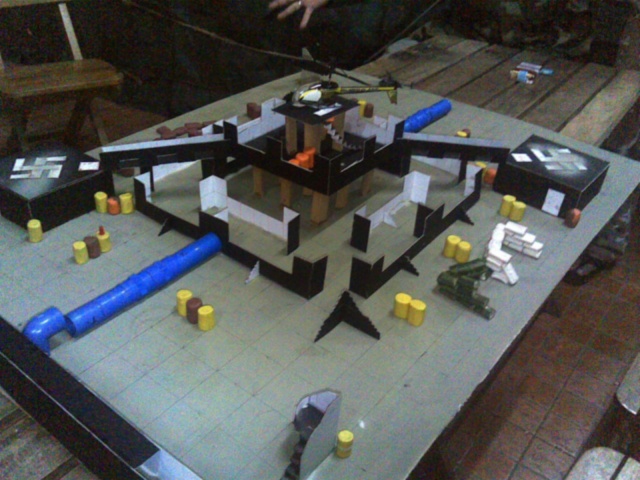 GAME SITE UPDATED PICTURES
HELIPAD
Behind all The Design Thanks to Sir OTOY
A view from the Helipad
The OH-6A Helicopter
Captain KoyPInks